OK-250A Semi-automatic shrink wrapping packing machine
Technical data:
● Facility type: OK-250A
● External dimension of the facility: L5050×W900×H2100mm
● Max. Dimension of wrappage: L600×W400×H350mm
● Shrink film material: PE、PVC、POF
● Shrink film thickness: 0.03-0.15mm
● Thermo-shrink tunnel max. temperature: 160-260°( can be adjusted freely)
● Max. output per minute: 5-8bags/minute
● Facility power: 18Kw
● Actual power: 15Kw/h
● Voltage: 380/220V
● Facility weight: 1T
● Fan: 1.1Kw 380V 2units, 6.5Kw 380V 4units
The general specification of the machine
● Taiwan AIRTAC pneumatic component       1set
● Taiwan Telta frequency converter       1 set
● Stainless iron wing type heating tube    12 pieces
● China-America cooperation Teflon convey belt.
● Shanghai Hemei electric-motor and Zhejiang Taili worm speed transmission.
● South-Korea Autonics proximity switch.
● Thermo sealing knife cast aluminum heating board has the character as even temperature, long life, is our special product.
● whole machine outer plastic-sprayed, the frame is made of high-quality carbon steel, main part adopt to stainless steel.
● Wooden case and film packed separately.
Product description:
● Speed adjusted by frequency converter, two segment bottle convey device.
● Pushing the bottle, thermo sealing and cutting are adopt pneumatic system.
● Proximity switch control the length of film.
● Double-wind cycling fan machine, ensure the temperature in shrinkage tunnel evenly.
● Super wind-volume cooling system, ensure get into shape quickly.
● Anti-high temperature teflon convey belt, convey steadily, high-strength anti-abrasion.
● Frequency unlimited speed adjustment and belt convey structure.
● Convey belt height can be made according to client's requirement, adjustment range:±50mm
● wing type stainless iron heating system, endurance used.
● The product-bearing stack device can meet with product instant stop requirement to ensure production line work continuous. 
Technical condition and requirement:
     1、 Packing method:
(1) 350/500/550/600ML: large package:4×6,4×5 ; Small package: 3×4,3×5 four type of package method.
(2) 1L/1.5L/2L/2.5L:  Large package:3×3,3×4; small package: 2×2,2×3 four type of package.
2、As to can package, we suggest adopt to package with tray , pack steadily.
3、package speed:5-8pcs/min
4、package material:PE thermo shrinkage film width(200-600mm),thickness(0.08-0.12mm)
Solution configuration:
 1、The structure of the whole machine is according to the automatic arrange production line, and combine with our company mature technology of OK-250A semi-automatic sealing and cutting machine. 
 2、 In order to assure it works stability, we adopt to import, joint venture named brand for the production line main components.
 3、Adopt flake PE film, the upper and down rollers are sealing and cutting automatically by the machine. And the package will be heated and shrinked to the packing efficiency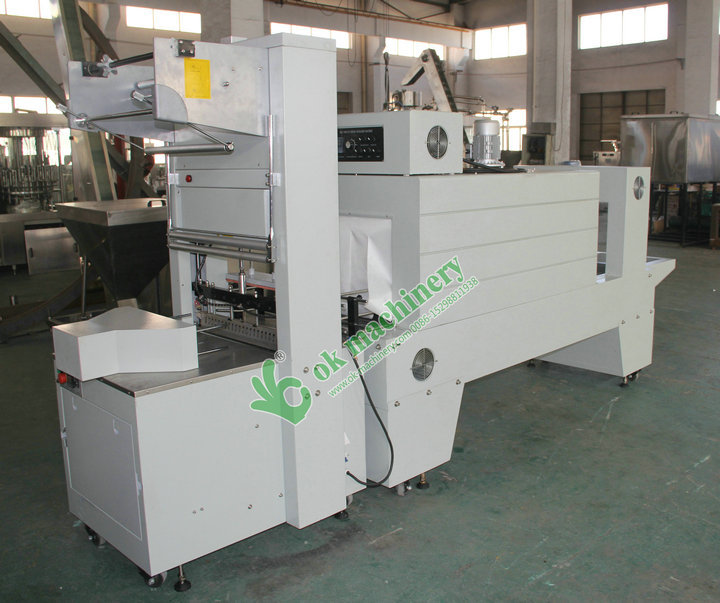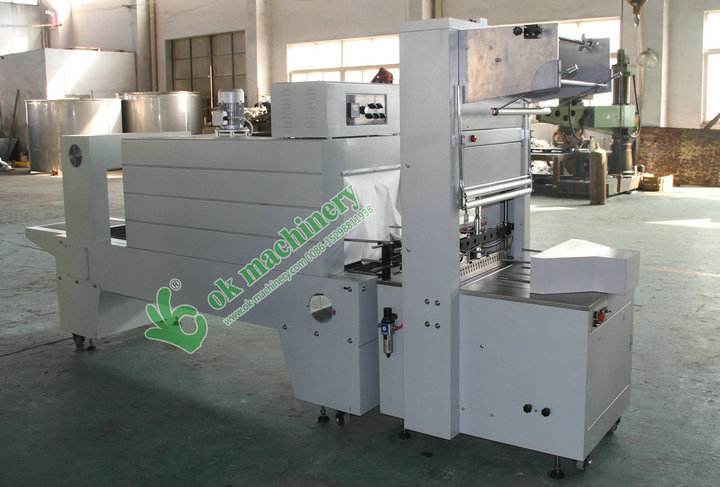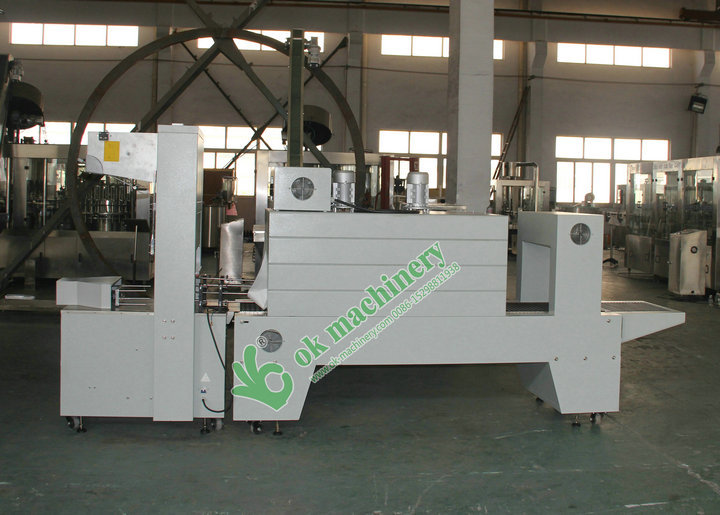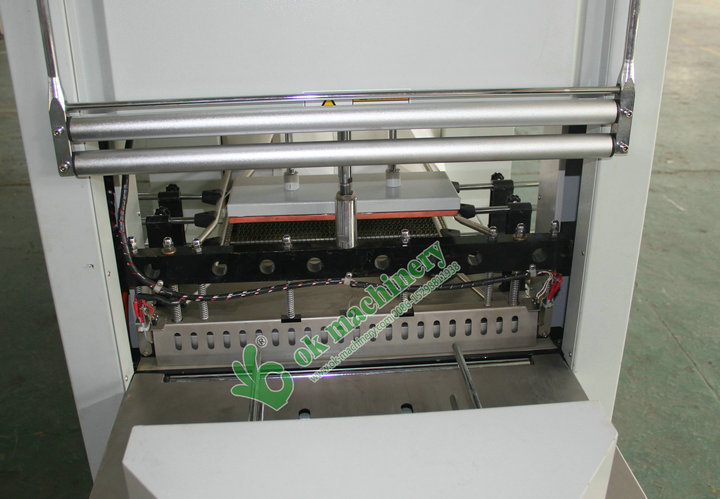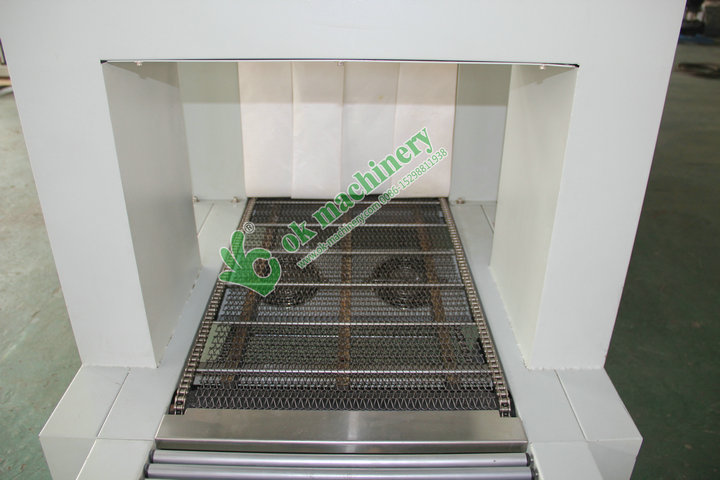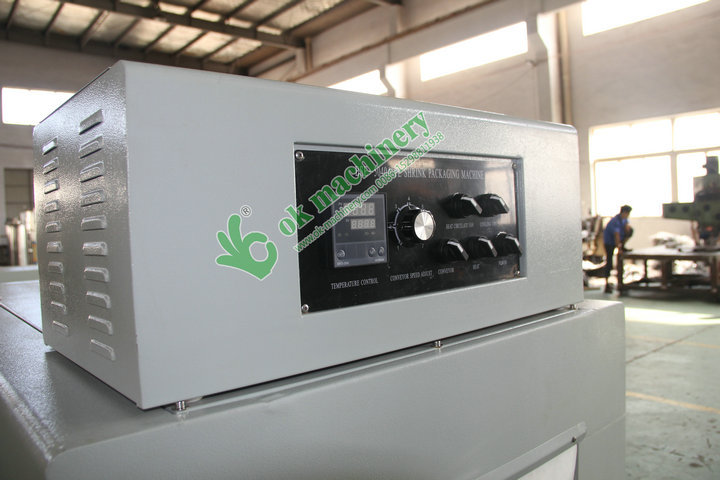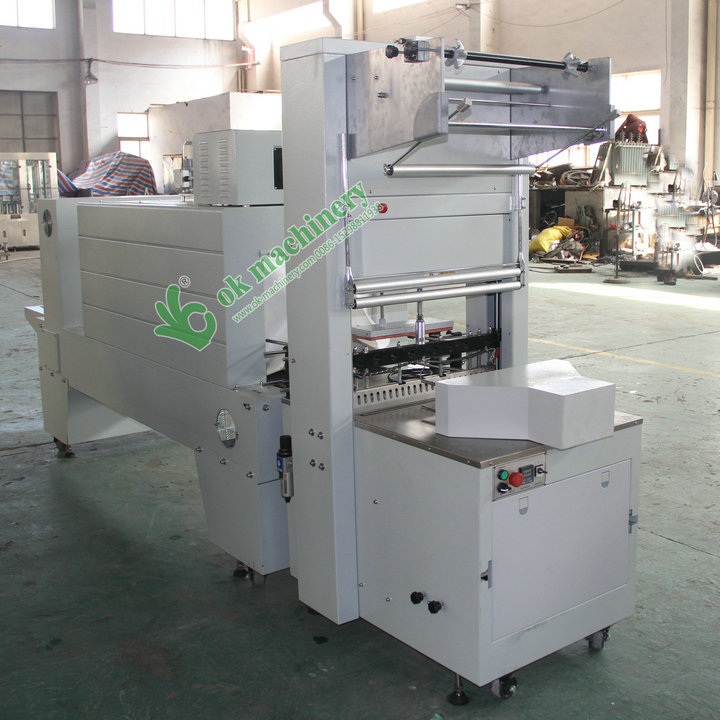 Loading list
| | | | | |
| --- | --- | --- | --- | --- |
| No. | Description  | Model | Qty  | Mark |
| 1 | Automatic film packing machine | OK-250A | 1 unit | |
| 2 | Thermo-shrink packing machine | OK-250A | 1 unit | |
| 3 | Wing-type heating tube | Be ordered | 2 pcs | |
| 4 | Thermocouple  | | 1 unit | |
| 5 | Inner hexagon spanner | | 1 set | |
| 6 | M6M8M10 direction  | | Two for each | |
| 7 | "十" and"一"type screw | | One for each | |
| 8 | Frequency converter instruction | | 1 unit | |
| 9 | Operation instruction | | 1 pcs | Include product certification and maintain card |